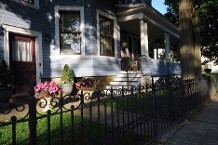 New York Times -
"The large and marvelously restored home has Victorian flourishes ...Gracious and friendly... The breakfast is a gourmet repast".
Frommer's-
"Very highly recommended"
"The rooms are handsomely decorated...The Hydrangea Suite with a sitting room and French doors is one of the better rooms you will find at a B&B".
Also featured in:
HGTV Network
The Discerning Traveler
What our Guest are saying about us:
"Wow! What a great Bed & Breakfast! One of our best. The food was excellent, you two are so friendly, feels like we have known you forever"
Agnes & Richard, Towson, MD
"Once again, your hospitality was unsurpassed. We feel so comfortable and welcomed in your lovely home."
Linda & Joe, Greenbrook, NJ
"Every detail, every morsel, every moment was perfect.. and you two are the icing on the cake."
David, Los Angeles, CA
"You made our trip to Saratoga a great success. Your hospitality, warmth and friendliness will never be forgotten. We will be back next summer for those pancakes!"
Ed &Ann, Ellicott City, MD
"Lovely home, gracious hosts,wonderful food. Hurrah!Thank you, Thank you!"
Jack & Dian, Onalaska, WA